"KING OF THE HILL"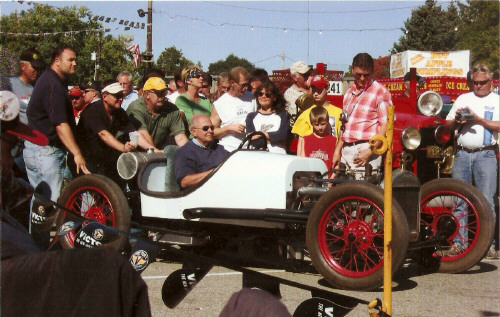 Newport, Indiana
Sunday, October 1, 2006
Cass Casmir Jr. of Hammond, IN Owner and Driver sets new record at NEWPORT ANTIQUE AUTO HILL CLIMB.
It was a beautiful sunny day in Newport, Indiana with an estimated crowd of 100,000 people. Fans watched as Cass pulled his new "old" experimental Modified Model T to the line for what turned out to be the ride of his life.
As the old T roared to life the crowd seemed to know something special was about to happen. Cass revved up his engine let out the clutch the old T. With tires smoking all the way through first gear shifted to second gear at the Ice Cream Cone on Main street. The old T shot up the hill like a rocket to the cheers of the crowd to set a new Modified Model T record at 22.18 seconds for the 1,800 foot run up the hill.

Inquires:
Phone ( 219 ) 884-3792